Boston Love 
Celebration on Mission Hill - 4/20/13 
Blood meridian or the evening redness in the West 
Still one of my favorite commercials of all time.  I almost lost it when they aired this right after the C's won it in 2008
Orange County
Old School
Superbad
Step Brothers
Observe and Report
Role Models
Dumb and Dumber
Wedding Crashers
Inspired by previous posts, here are some subtle but funny moments that don't get the shine like other memorable scenes…
The Foot Fist Way
Along Came Polly
Step Brothers
Accepted
Forgetting Sarah Marshall
The Foot Fist Way
Dumb and Dumber
Road Trip
Billy Madison
P.S. These get funnier the more you watch them
The Master
So TWC revealed this teaser at Cannes over the weekend and I've already watched it 20 times in the past two days.  I'm so fucking in I can't even stand it.  I've been tracking this long-time mysterious "scientology-but-not-scientology" project for a couple of years now and to be honest I had no idea what to expect (other than pure PTA awesomeness). 
But by the looks of this 1:40 youtube masterpiece - it looks like Anderson is building off of his distinct style established in TWBB and flexing his guns with another creepy as shit Jonny Greenwood score and unnerving close-ups of psycho-pathic dark haired males…which leads me to my next point…
I think its safe to say that Joaquin Phoenix has entered into the "Daniel Day-Lewis" zone of insanely awesome actor that will crush any role.  The dude looks straight up NUTS in this clip.  He's not even the central figure of the film (Philip Seymour Hoffman plays the L. Ron Hubbard type weirdo cult dude) but I can already tell he's gonna steal the show.  A+ teaser. 
PS. Apparently the clip from Cannes included footage of Phoenix masturbating into the ocean.  Love it.  Keep doing you Joaquin.
The Great Gatsby
This is another project that I've been extremely excited for. Baz Luhrmann absolutely KILLS literary adaptations and if there was one director I'd trust with an ambitious work like Gatsby, it'd be The Baz.
That being said, I'm not crazy about this trailer. I'm impressed with the one sheet and the visuals from the trailer - but Jay-Z? I get that Baz likes to use anachronistic music in his adaptations (see Romeo+Juliet) - but JAY-Z? Leo looks sick though, I know he's gonna nail it. Trailer aside, I'm still in. I just hope Leo doesn't drop any left over N-bombs from his stint in Django Unchained.
Anchorman 2
Love it. Nothing else to say. This movie could be the exact same thing as the first and I would still watch it 100 times. So down for an old fashioned nut shot.
Skyfall
I've heard good things about this. Quantum of Solace sucked but I feel like Casino Royale is one of the more underrated Bond films. Point is Daniel Craig is possibly the coolest thing since sliced bread and I could watch him for days.
The teaser is short with only glimpses of action but I'm digging the synthesized Bond theme in the end of the clip. I'm in.
PS. If Javier Bardem isn't playing his same, exact role from No Country for Old Men then I have ZERO faith in Hollywood. Nothing says James Bond more than cattle guns to the forehead.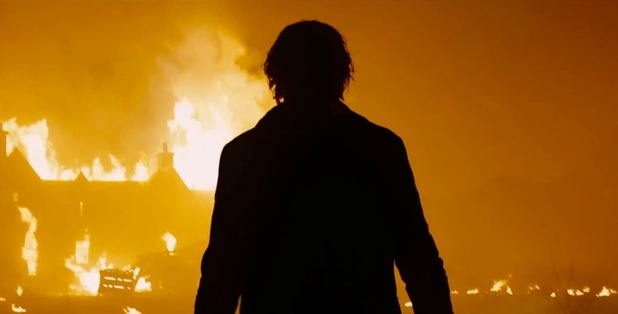 This song is cool as shit
I'm guessing that this sequence will go down as one of the most epic scenes in cinematic history.  In terms of sheer scope and ambition, Malick's portrayal of the creation of the universe and earth, coupled with the use of an unbelievably haunting opera score (Tavener's Lacrimosa), creates one of the most sublime theater experiences of all time (even more so than Kubrick's 2001).
In order to do this scene justice, this clip must be watched in full screen with high volume. 
PS. This sequence continues with the evolution of microscopic life and the first sea creatures, all the way to the birth and extinction of dinosaurs.  Pretty Amazing.
PPS.  Not a bad film, either.